Prop House
We don't just hire props, we love our props !
Pure Energy is a prop house specialising in retro props for film and TV. From toys to computers we have a great range that add the special detail to any set.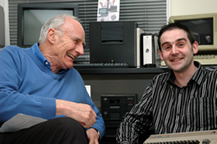 Not only do we have the props but we know loads about them aswell. If you want advice on which props are most suitable, which props fit the timeframe or even need someone to wax lyrical on camera, we have the passion, the enthusiasm and the knowledge to make that special addition to your production.
We specialise in gadgets, toys, games, computers, hi-fi, music, electrical and general electronics ... We're a bunch of geeks that have loved and lived in the 60's, 70's, 80's and 90's and have hoarded everything we picked up along the way !!
Some of our most popular items ...